The 2024-25 FAFSA form that opens in late 2023 will include the greatest number of changes to the process since 1997. The goal is a more simplified form and process, as well as expanded federal Pell grant eligibility. Read this MOCAN blog post for a summary of changes to the FAFSA.
The FAFSA form this year is delayed and will open by December 31, 2023. A date has not yet been announced by Federal Student Aid. When a date is announced, MOCAN will notify counselors via email. Sign up here to receive updates.
The Missouri College and Career Attainment Network (MOCAN), Missouri Association of Student Financial Aid Personnel (MASFAP) and Missouri Department of Higher Education and Workforce Development (MDHEWD) are working together with partners across the state to make sure you – and your students and families – have the support you need.
If you are in Kansas City, MOCAN is convening a Kansas City Task Force to support FAFSA completion in the region. Contact Camry Ivory ([email protected]) for more information.
MOCAN has developed a social media toolkit for high schools, colleges, and partner organizations to use. You can use the social media posts and graphics to spread the word about the new FAFSA.
01
Training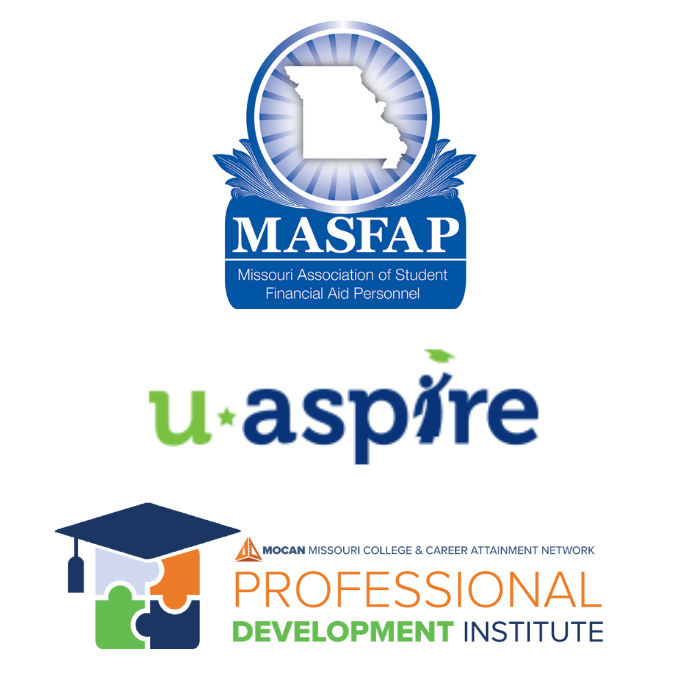 MOCAN's Professional Development Institute (PDI) provides FREE workshops for school counselors, college and career advisers, financial aid personnel and other professionals.
A list of Fall workshops is below. MOCAN will announce in-person and virtual FAFSA walk-through workshops once Federal Student Aid opens the FAFSA. To join our e-mail list, click here.
Register for all workshops via MOCAN's website.
All virtual workshops are recorded and materials shared via MOCAN's PDI Portal.
These workshops are for counselors, college advisors, and community based organization employees. All are free to attend.
| | |
| --- | --- |
| In Person Workshops | |
| FAFSA Walk Through Workshops – multiple locations | January TBD |
Federal Student Aid
The FAFSA is a form of Federal Student Aid of the U.S. Department of Education. This site links to the FAFSA and provides the best information on how to complete it.
uAspire
National nonprofit organization uAspire has easy to follow checklists and tools for students with questions about the FAFSA and financial aid, including short videos on each step of the FAFSA process.
National College Attainment Network
NCAN has created several toolkits to support professionals advising students.
MASFAP
The Missouri Association of Student Financial Aid Personnel (MASFAP) is hosting 14 in-person financial aid workshops with MOCAN this fall and will host FAFSA walk-through events once the FAFSA is open. MASFAP also provides speakers on the FAFSA for school and community events.
Journey to College
Missouri's Department of Higher Education and Workforce Development has a website with planning tips and resources for college-bound students. Journey to College holds FAFSA Frenzy events around the state to help students complete the FAFSA. Counselors can request a speaker for events.
Scholarship Foundation of St. Louis
The Scholarship Foundation of St. Louis provides free workshops and in-person clinics (by appointment only) to help students and families navigate the financial aid process. This will include FAFSA specific workshops this year.